Roving Rube Picture of the Day
11/25/01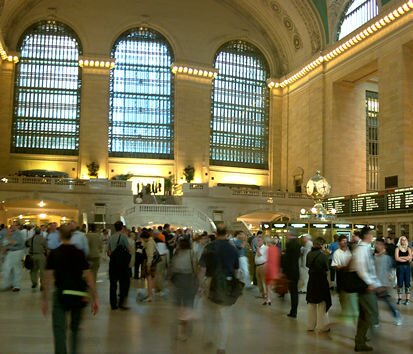 The day the ICBM put a hole in Grand Central
One of the wonderful accomplishments of the ongoing Grand Central restoration project was simply to clean the walls and ceiling and replace all the blown out bulbs it makes such a difference!
But much, much else was done, which you can learn about by taking one of the numerous tours that are offered by organizations such as the 92nd Street Y, the Municipal Art Society, and Cooper Union. The Rube has taken half a dozen so far, and they've all been great. One of the best is a free tour given every Friday at 12:30 pm, sponsored by the Grand Central Partnership and led by Justin Ferate.
Mr. Ferate has given this tour for years. He typically asks attendees if they taken it before, and the tours vary accordingly (on his other Justin-led tours around the city, the Rube has seen the itinerary instantly change depending on what stairway the group happens to exit the subway from). In Grand Central, he may take you across the precarious-looking glass floors high up inside the tall windows at back of this picture, or he may sit down on the floor to demonstrate that it is proportioned and patterned like graph paper, and that's why you don't see people bumping into each other like they do on the sidewalks.
Or, he may tell you about the time back in the 60's, when, in a patriotic display of our military might, they brought in a nuclear missile (OK, probably it had a dummy warhead) and set it up in the middle of the concourse, but then had to punch a hole in the ceiling to be able to stand it upright.