Roving Rube Picture of the Day
Each day (that he gets around to it) the Rube posts a new picture, together with some explanatory notes. Clicking on the file will download a larger version.
10/21/01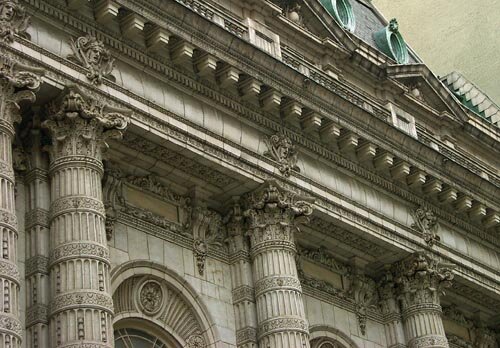 The works with double terra cotta
Both the Lyceum theater (shown here) and the New Amsterdam (renovated by Disney and reopened to show "The Lion King") originally opened in 1903, were designed by the architectural team of Herts & Tallant, and have achieved Landmark status (nice going, H & T!).
Behind the balcony was a penthouse apartment for the producer, and behind the round windows above that was a rehearsal hall.
The square boxes directly above the columns originally held (literally) "flaming tripods".
The blank rectangles between the columns originally had more ornate carvings which it would be nice to see replaced!